Area Trick-or-Treat
Date:

10/31/2017 6:00 PM - 8:00 PM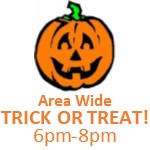 Jefferson County and cities within Jefferson County, including Charles Town, Ranson, and Shepherdstown, has set the official Trick-or-Treat hours on October 31, 2017 from 6pm-8pm.
Please be aware of costumed children will be on the streets and sidewalks during this time, and to use caution when driving and moving about the county.
We sincerely hope everyone had a great time.
Return to full list >>