General Election
November 6, 2018
If you are interested in becoming a poll worker, please contact Nikki Painter at npainter@jeffersoncountywv.org or 304-728-3246. You must be a registered voter in Jefferson County to be eligible.
The new Voter ID law went into effect during the 2018 Primary Election. Click HERE for more information.
The last day to register to vote in the General Election is October 16, 2018.
Early Voting and Election Day Hours
Early Voting is held at the Jefferson County Courthouse (100 E Washington St, Charles Town)
October 24 - November 3
Hours: 9:00 a.m. - 5:00 p.m. (including Saturdays)
Saturday Voting: October 27 & November 3
Election Day voting takes place on November 6 at your normal polling location.
Polls are open 6:30 a.m. - 7:30 p.m.
(The Courthouse is not a polling place and will be closed on Election Day.)
Sample Ballots
65th Delegate District (Precincts: 2, 3, 4A, 4B, 6, 7, 19, 23A, 23B, 24, 28)
66th Delegate District (Precincts: 16, 21A, 21B, 20, 22, 25A, 25B, 26, 27, 29)
67th Delegate District (Precincts: 12, 13, 14, 15, 17, 31, 32, 33, 34, 35A, 35B)
Official Write In List - US Senate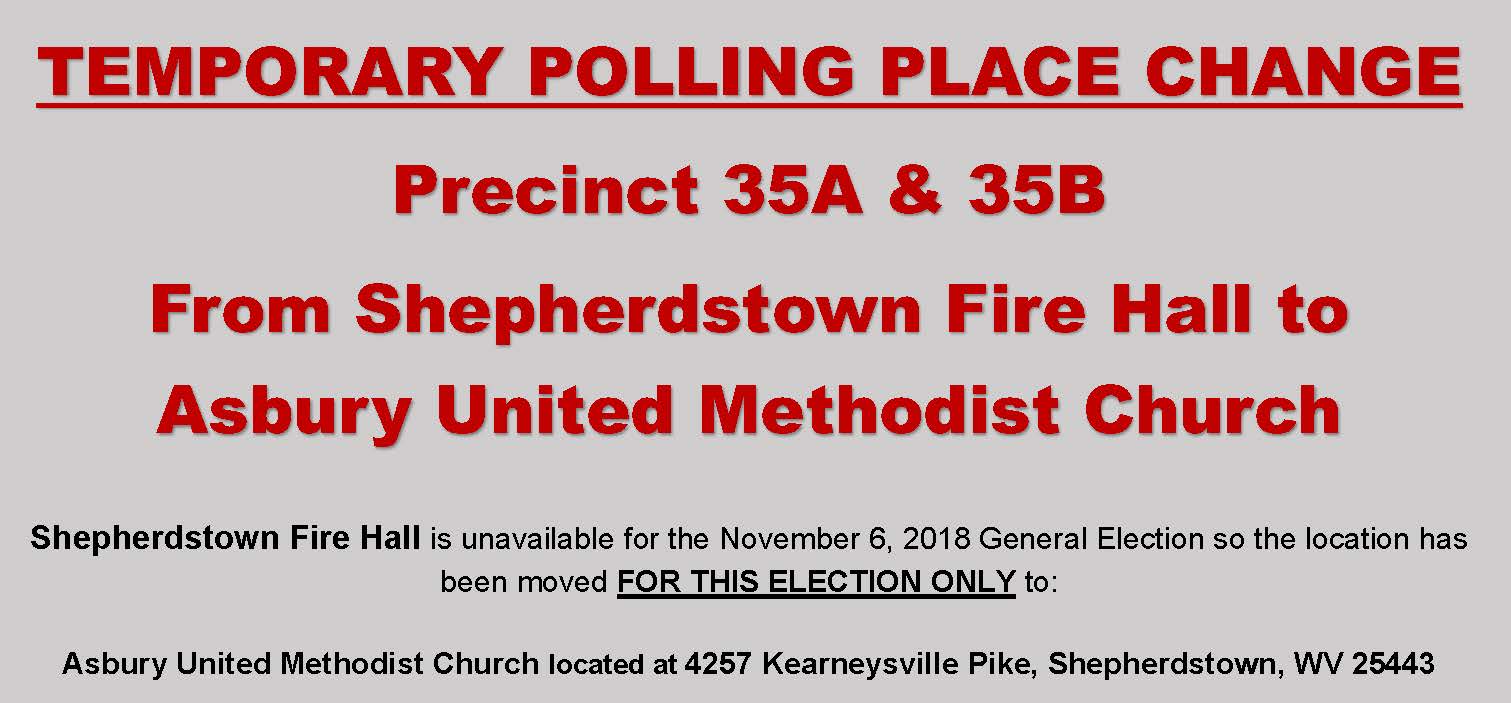 Absentee Voting
If you are unable to make it to the Jefferson County Courthouse during early voting or to your polling place on Election Day, you may be eligible for an absentee ballot. Contact the Voter & Elections Office at 304-728-3386 or spacetti@jeffersoncountywv.org for details.
State Candidate List
State level candidates file with the Secretary of State's office. Click HERE to search by county.
County Candidate List
County Commission - Harpers Ferry District - Unexpired Term
County Commission - Middleway District